"This exhibition is a marker of transitions, not permanence," says multimedia artist Susan Goethel Campbell. In her solo show Second Nature, on view from March 12 – April 30 at David Klein Gallery in Detroit, the artist continues her collaboration with the environment, creating elegiac artworks that speak of impermanence and transition, loss and rebirth. In this latest, process-driven iteration of her ongoing art practice, she collects fugitive elements of the world around her—blossoms, fallen leaves, the shadowy stains of walnuts–and transforms them into potent meditative objects.
Although a printmaker by training, Campbell's art practice has expanded over time to include video, installation, and environmental and community-based art. Second Nature builds upon her established art practice but adds an element of spirituality, a creative development in her work that she describes as "a reminder of the bridge between life, death, and reformation." She has produced two separate but related bodies of work for this exhibition that complement and reinforce each other.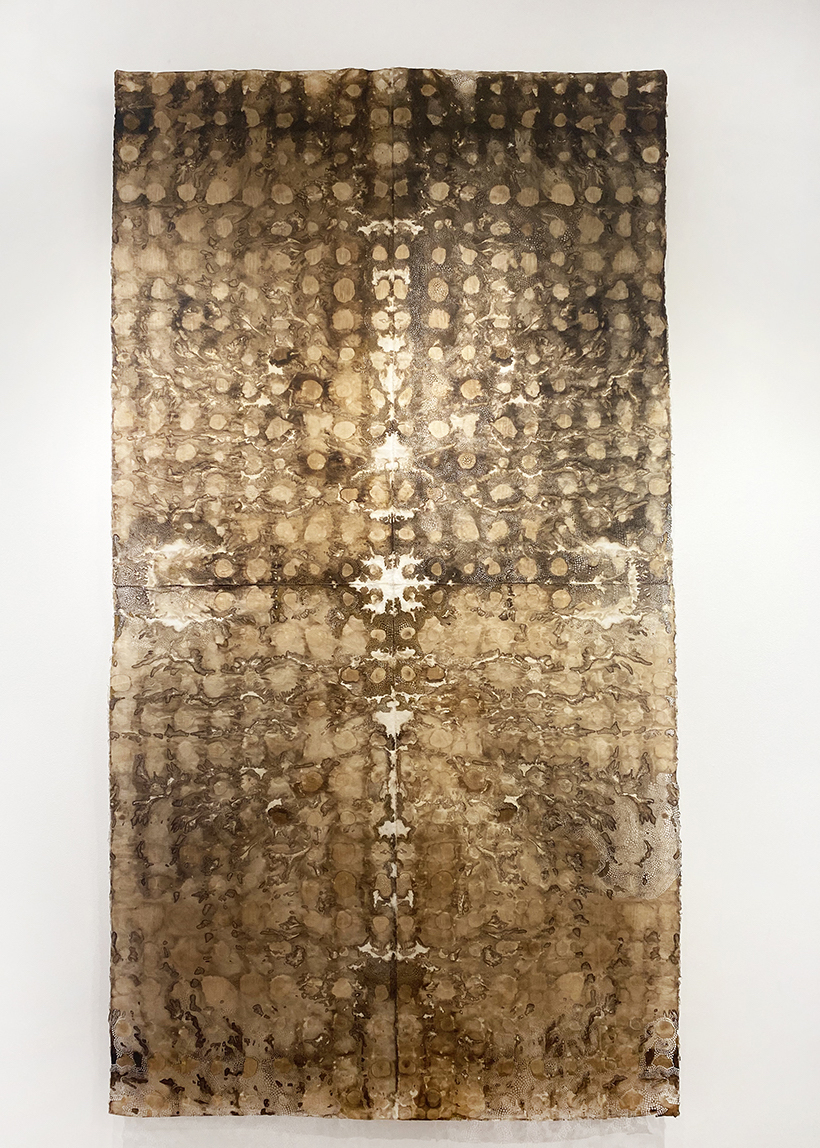 Susan Goethel Campbell, Seasonal No. 4, 2022, walnut stains with hand perforation and hand-sewing on Japanese paper, 108" x 59." Photo: Samantha Bankle Schefman.
Seasonal Series
In Seasonal, a series of five large new works on paper, Campbell has made shadowy dye from walnuts and arranges the resulting translucent, circular brown blotches in loosely symmetrical compositions on sheets of Japanese rice paper. This repetitive dripping process is followed by folding the sheets onto each other and yields a tapestry-like image that seems both random and intentional. The artist employs the resulting dorsiventral symmetry, found throughout nature in most animals and many plants, to imply an adumbral presence. The artworks also immediately call to mind projective psychological Rorschach tests. Tiny, meticulously placed perforations that punctuate the ad hoc stains give emphasis and a kind of ceremonial dignity to the work. The sheets of paper are sutured together by the artist's hand, creating the effect of subtle scarring, an implication of remembered pain.  The assembled layers have been mounted several inches away from the wall and cast shadows of the perforations on the wall behind the paper, forming a fugitive second artwork behind the foreground image. The resulting pattern drains away from the random quality of the staining in favor of the purely intentional punched design.
Hibiscus Years
The simple image of a hibiscus blossom, magnified to many times its original size, is the subject—or a pretext for–the digital photography series Hibiscus Years. The routine nature of the flower as a subject in art conceals the true preoccupation of this work: time, beauty, impermanence, and their relation to each other. Each hibiscus blossom, which lasts for only a day, has been fixed in time through digital photography, and the blooms are layered one on top of the other. The resulting composite images in Hibiscus 1-4 are simple re-iterations of the blossom shape; the layers create densely dark centers that transition at the edges to delicate chiffon-like veils of plum, mauve and buff. The torn edges and slightly faded colors undermine the natural prettiness of the image and give them psychological depth. Campbell adds a sense of linear time in Hibiscus Years No. 5 Scroll, with the symmetrical image repeated in a vertical format that calls to mind a roll of film.
Perhaps the most mysterious works in the exhibition, both in process and intent, are Hibiscus Years 6 and 7. The images seem both allusive and elusive while being the most purely abstract images in the series. These circular shapes invite and frustrate perceptions; they are both evocative but indistinct, circumventing an easy reading of the image. They withhold meaning that we reach for but can't touch.  The flat gray of shadows against the milky whiteness of the paper hint at a transcendent reality just outside our field of vision.
In Second Nature, Susan Goethel Campbell has created a collection of fragile yet resilient poetic images that express the spirit of this moment, a visible and resonant record of the calamitous years we have just experienced.  It has been a time of the pandemic, climate change, political unrest–and now, war. But rather than suggesting that we dwell upon our losses, the artist has found us some solid ground to stand on. She tentatively proposes a spring of renewal, when death is followed by rebirth, growth proceeds from decay and hope wins over sorrow.
Susan Goethel Campbell:  Second Nature @ David Klein Gallery is on view through April 30, 2022.