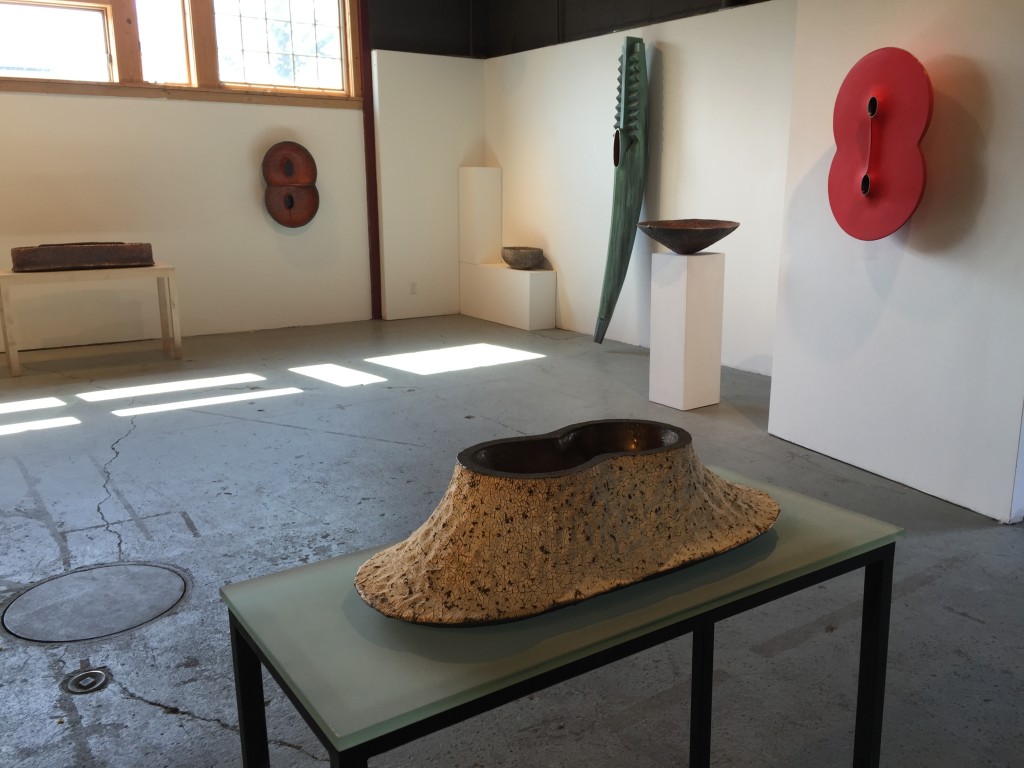 Installation-Courtesy of the Artist, Photo – Ron Scott
Popps Packing on the northeast side of Hamtramck is a gallery that describes itself as an experimental arts venue. April 25 through May 17, 2015, it hosts an exhibition, Inner-Core, with sculpture by Tom Phardel. The building has been converted from a 1930's meat packing plant to a cookie factory and now a gallery that has an artist residency as part of its purpose. The large space serves to function as studio practice, architectural interventions, and alternative systems projects. Founded in 2007 by Graem Whyte and his wife, Faina Lerman, the upper portion of the structure also serves as their residence.
On a fundamental level, Mr. Phardel's work could be described as modern, contemporary, and even conventional in comparison to installations that use waste material and found objects as their medium. All of the work in the exhibition would qualify as made-by-hand objects that vary in material from stoneware clay to fabricated steel. Mr. Phardel's work in this exhibition is modest in size, and influences that come to mind are Ellsworth Kelly and John Duff. There are both reliefs and stand-alone pieces that do not radically break away from tradition, but rather find themselves on an evolving continuum of recognized work, accompanied by a high level of technical execution. The ceramic work is complex but accessible, but in pieces where the steel fabrication process is used, it goes beyond a layperson's understanding. One might picture an object-mold made of plastic, plaster or wood being used as a form that provides the uniformity of shape. But the technical accomplishment of Mr. Phardel's sculpture stands second to the conceptual ideas he presents. Duality of form, earth-like surfaces, and at times a sense of spirituality, provide the audience with a feeling that is old and new, organic and industrial, ancient, yet modern.
In a statement, Mr. Phardel says, "In my artwork I try to distill universal forms and experiences to their core essence. There are portals exposing hidden interior spaces, surfaces that have acquired a visual language of usage, time and ephemeral translucent elements that transmit only the essential outlines of form and color. These elements tell the human story, a yearning to understand the unknown. The work selected for this show, both new and old, are all based on the concept of revealing an inner essence of forms, the Inner-Core. I hope the pure love of making objects comes through clearly as well as the need to communicate deeper experiential thoughts within a simplified framework. "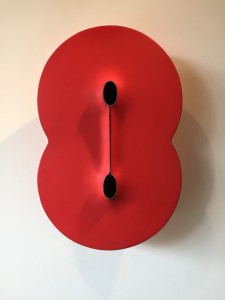 Red Bindu, Fabricated Steel  16 X 28, Courtesy of the Artist  Photo – Ron Scott
An example of duality is the steel fabricated piece with two holes vertically placed and the surface spray-painted and sanded many times to produce the radiant red. The title Red Bindu could refer to the gateway to the Himalayan Yoga tradition where people hunger for connection to the core of life through meditation. These Yoga Meditations combine philosophy, practice, and oral instructions passed on through time. Whether or not this is accurate, when experiencing the relief, we converge on an attractive meditation that takes us to a place that resonates. A place we understand.
Do I like some of these objects better than others? Sure, but it reminds me that we all bring our own experience and sensibility to the art experience, and the end result is different for everyone. In the case of Tom Phardel's work, we get originality, exploration of form, unusual and sophisticated use of material, and at times a spiritual presence.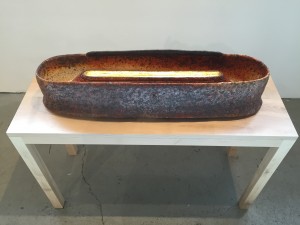 Golden Plateau, Salt Fired black Stone, Courtesy of the Artist
Popps Packing   http://www.poppspacking.org
12138 Saint Aubin, Hamtramck, MI 48212    313-733-6793