Brian Rutenberg, painter, and Frank James Fisher, ceramicist, open the Spring Season of 2021 at the Birmingham Bloomfield Art Center
As Michiganders crawl out of the winter and the Covid-19 pandemic (be it as slow as it is), we are greeted by the BBAC exhibitions that make it worth our time for a visit.  The main gallery features the ceramic work by Frank Fisher and Brian Rutenberg's abstractions in the Robinson Gallery. "This is a must-see, exceptional exhibit," said Annie VanGelderen, BBAC president and CEO. "Truly, all of our spring exhibiting artists are particularly wonderful in their own mediums.  Visitors will certainly leave inspired."
Sitting in the Robinson Gallery for a lengthy amount of time, I begin to acclimate to these large oil paintings by the nationally known artist from South Carolina, Brian Rutenberg.  The imagery gradually falls into place, something I would describe as abstract landscapes where there is an abundance of woodlands, horizons, skies, streams and rivers. Although he has spent his adult life, post-graduate school,  in New York City, these compositions are unique, inspired by the coastal Carolina landscape of his youth.  Those formative years must have made its mark on Rutenberg's sensibility in terms of subject matter, as he brings this vibrant color scheme and the issue of scale to the forefront of the work.  If these paintings were all 20 x 30 inches, we would not be so affected. Still, Green River is a portal into the richness of heavily applied oil paint in a variety of ways and a color scheme that uses primary and secondary colors in a form that is individual to each painting.  There is a newness in how Rutenberg handles his forms, something that separates him from other abstract landscape painters, leaving us with a unique experience.
Here is a detail from Green River (18 x 20 inches), where we see Rutenberg using a large variety of tools to spread paint: brushes, sticks, pallet knives and trowels. There is a color selection which repeats throughout the work that reflects on the subjects, a stream or vertical branch, and skies that reach out into a variety of pastel hues.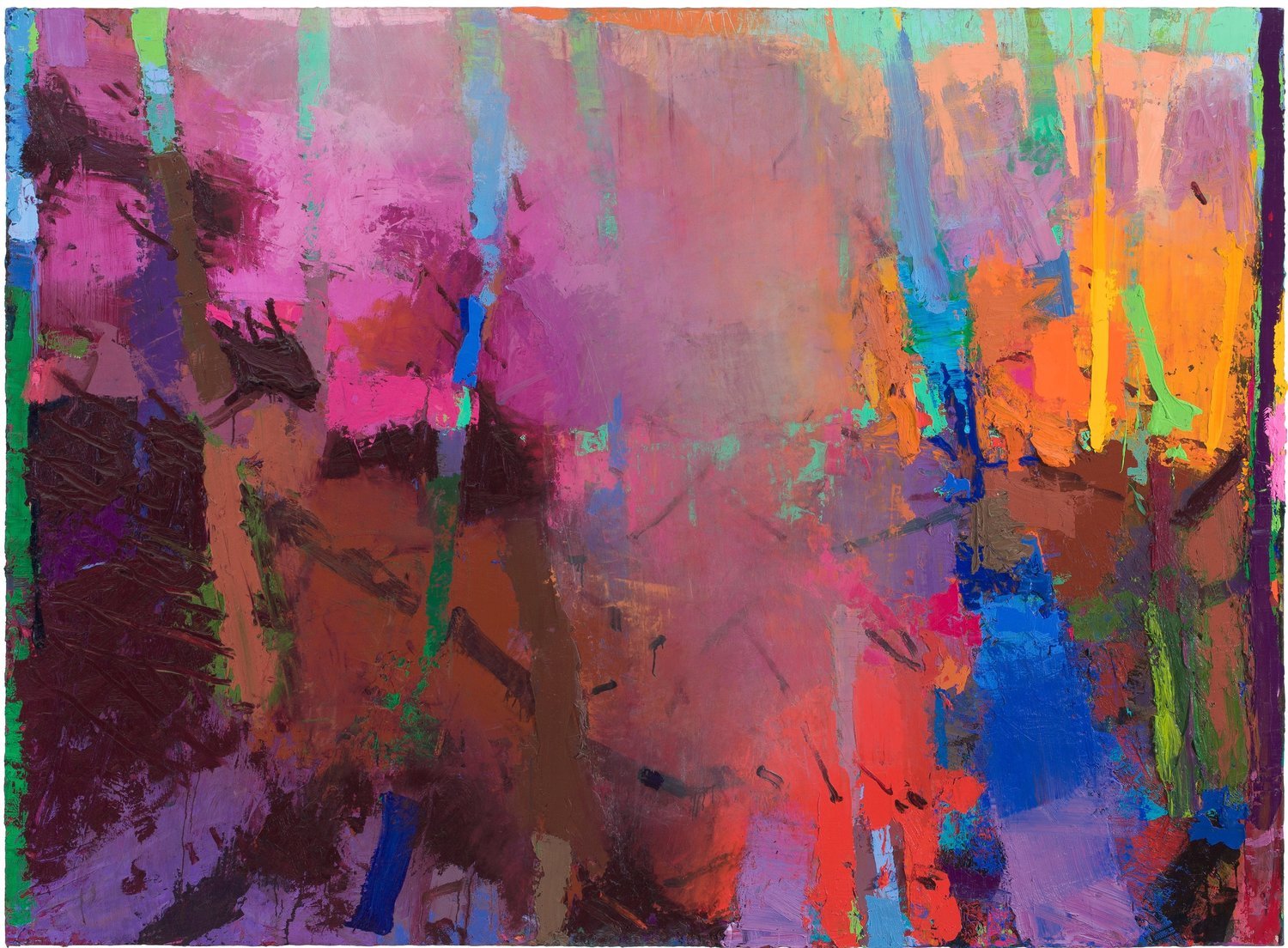 The large 60 x 82 inch oil painting, Corsair, is another example of an abstract landscape where there is a horizon running horizontally with vertical lines like tree branches on the left and a blue stream on the right. The foreground dominates the composition with organic brown and foliage green.  The landscape may be subliminal, but it is clear to this viewer that Rutenberg's abstract expressionism consistently repeats itself throughout the work. The Myrtle Beach-born painter is obsessed with the physicality of low hanging trees along South Carolina's waterways, and continued to draw on those years long after moving to New York City.  When I refer to the term abstract expressionism, it would be similar to the female paintings by Willem de Kooning, where the figure is abstracted. Rutenberg does this in a unique way with his abstract landscapes.
Brian Rutenberg earned his undergraduate degree from the College of Charleston and his Masters of Fine Arts from the School of Visual Arts in New York City.
Frank James Fisher Ceramics Draw on Everyday Imagery
A native Michigander from Milford, Frank James Fisher, has what he calls Pop Artifacts on display in the Birmingham Bloomfield Art Center's main gallery.  These reasonably small works are mostly slab construction using porcelain clay and a Raku firing. Some of the parts to these ceramic pieces are thrown on a potter's wheel, but most come from lumps of clay rolled out into slab constructions where he adds photo imagery to the surface.  The title Pop Artifacts comes from using commercial images like Starbucks and goes back to the 1970s when artists like Andy Warhol used images from Campbell soup cans and a Brillo pad logo to create their art.
He says in his statement, "Advertising has recalibrated my brain. Forty years of working in the marketing community has saturated and skewed my aesthetic away from traditional art expression. My mind prefers graphics, headlines, logos, body copy, photos, illustrations, taglines, and any other marketing tool to express my creative thoughts. These are the tools I use to build narratives and fabricate impossible consumer products out of clay. I call them Pop Artifacts. Sculpted, cast, pressed, or thrown, these ceramic objects represent the desires we chase in the hope of capturing satisfaction.
Inspired by mineral spirit containers from years ago, Fisher's Tea-cans have the retro-look of an older metal fabricated chamber that might resemble a favorite of many ceramicists, the Tea Pot. Using hand-cut stencils, he applies them to greenware by adding glaze to the bare surface in various steps and then relies on the Raku process to achieve his desired aged look.
Frank James Fisher earned his BFA in graphic design from Central Michigan University and worked in advertising for 25 years until 2006 and teaches advanced ceramics courses in the metro-Detroit area where he demonstrates his art methods at workshops.
Both exhibitions at the BBAC run through April 22, 2021