N'Namdi Winter Line-Up :Warm Woodworks and Emotional Moving Blankets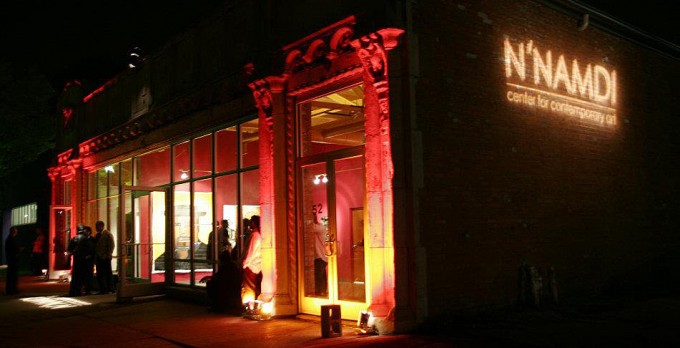 Each work by Johnny Coleman in his main gallery show at the N'Namdi Center for Contemporary Art http://nnamdicenter.org/ is dedicated to someone; "For Maya Angelou," some say, or "For Wendall Logan,"—Andre Burbridge, Toni Morrison, Brother Yusef, Kamau Daaood, even one dedicated more generally "For the Poets." This is fitting with the show's title, Homage: Regular Folk, which reflects Coleman's sense that these illustrious names "Are all regular folk…each of them is deeply connected to the people and cultures from which they emerged. They do not set themselves apart."
The homage is paid through totemic arrangements of found materials, including musical instruments, salvaged wood, and chalkboards. Coleman speaks of the chalkboards as a visual articulation of memory: "Though erased, one can see traces of what has been written there before." But all of his materials radiate a residual energy, infusing his precisely finished woodworks with a sense of soul. The central, and most elaborate, installation features a tabletop composition supported by a base made of wood-framed chalkboard segments, which stands before an illuminated fabric scrim, amid a carpet of oak leaves. The scene is peaceful and full of autumn melancholy; gourds loll in the thick, even, scattering of leaves, two little stools support oregano and basil stuffed in bottle gourds. There is sense of an odd and elevated picnic in progress, with the table full of dry brown rice that serves to anchor a spread which includes a medley of spices, a bamboo flute, and a recovered radio set, among other items. Underscoring this ceremonial layout is an improvisation on "12 Bar Blues," interspersed with found sound, including Yusef Lateef's breath, and afternoon traffic outside the Detroit Public Library. Says Coleman, "The relationship between "Poem For Brother Yusef" and the blues piece emerging from within the installation, for me, speaks to the manner in which Yusef Lateef in particular, and jazz and the blues in general, serve as vehicles for the transformation of struggle and pain into something more than tenacity."
This is just one of almost a dozen incredibly thoughtful arrangements in Homage: Regular Folk. The incredible care in finishing these materials creates smooth and engaging tones and surfaces that speak to the sonorous qualities that lend wood to be the base material of stringed instruments. The impact of wood as a versatile material is demonstrated perfectly in the works of John Egner in the Rose Gallery. The simply-titled Wood Constructions tells it like it is, with just over a dozen compact wall hangings that suggest architectural scale models or clusters of frame-shop samples, at a glance. The small, interlocking pieces of each arrangement build up layers of depth and an interplay of colors with natural wood tones, creating little modernist houses that perch somewhere between two and three dimensions. There is glorious tension here; one imagines each piece being constructed like a game of Jenga, with Egner precariously removing and adding little slips of wood, one at a time, to find the perfect stopping point between balance and collapse.
Eschewing wood, but picking up on spiritual explorations, a new body of work, Cosmic Spirits, by Saffell Gardner fills the Black Box Gallery and stretches along the corridor. Inside the gallery, large-scale pieces rendered on heavily gessoed moving blankets layer riots of color and form over a base layer of geometrics created by the quilting of the blankets. Gardner first experimented with moving blankets as canvases during the 2014 Big Painting show, and finds them attractive for both the texture and the scale. "The quilting texture added the depth that felt was necessary for the spiritual aspect I wanted to convey in this series of paintings," says Gardner. With the overlay of painted shapes—including the iconic Xhango, a double-ax shape that has been a recurring motif in Gardner's work for quite a few years—and the underlying geometries places his work in conversation with Enger's. The sense of cosmic exploration and connection to influential figures aligns it very much with Coleman's. "What I see going on is my idea of a tribute to my ancestors the were lost during middle passage," says Gardner.
All three of the shows, which will run at N'Namdi until April 1st, bring a unique perspective to the table, but the overall effect is quite seamless, with the mastery each of these artists brings to his craft grounding their playful and heartfelt explorations. Whether you're interested in tributes to regular folk, meditations on cosmic spirits, or just simple wood constructions, N'Namdi's winter line-up has something inspiring to offer.
52 E Forest Ave, Detroit, MI 48201     (313) 831-8700