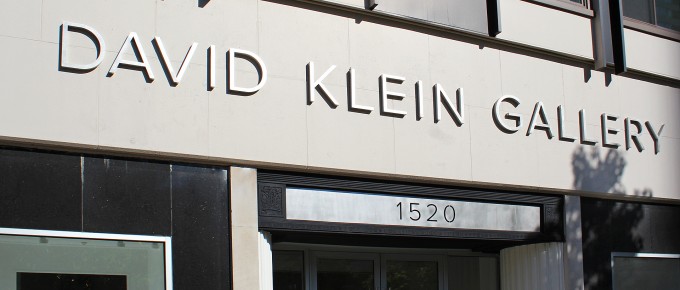 Mitch Cope, Kari Cholnoky, Lisa Waud, and Patrick Ethen in a group exhibition
There's a mixture of playfulness and deadly seriousness, grounded in filth and pointing to transcendence, in the current exhibitions at David Klein Gallery's new Detroit space. Brooklyn-based Kari Cholnoky's meaty paintings and sculptures, gathered under the brilliant title "Semi Lucid Steaks," seek to invade the viewer's physical and psychic space, propelled by bonkers materials like spray foam, pantyhose, synthetic hair, and Cheetos (all of which are listed with deadpan sincerity in the descriptions that accompany each work) and a mind-bending palette of fluorescent hues that could have come straight from my Trapper Keeper circa 1992.
Cholnoky's palette isn't the only oddly scholastic reference I picked up in her work. The template of art class projects- laminated odes to creative expression made with macaroni, textural, day-glo hued paint, and other materials culled from donations by suburban hoarders and civic-minded businesses- is distilled into moments of subtle, sophisticated formalism in Cholnoky's sheer devotion to these humble, hideous materials, and her loving care in curating their mind-boggling combinations- some works seem to simmer with a low inner fire, others to ooze and swim with primordial energy.
Moving from one piece to the next is an increasingly heady experience that ropes synesthesia in with wild visual confusion- you begin to almost smell the work. Cholnoky's present exploration seems most fully realized in her handmade book, part of an ongoing series, which turns everything that defines "book" on its head. It is a cumbersome, overwhelming object that looks as if it would be sticky to touch, which doesn't lessen one's urge to touch it (a latex-gloved gallery attendant will turn its leaves for you, worse luck.)
The formal puzzle of Cholnoky's materials jumps out from page after page. Grasping their meaning, and their point of entry into the psyche, might be as difficult- and seductive- as grasping the book itself.
"Totems," Mitch Cope's body of photographs, sculptures and documentary film, dovetails neatly with "Semi Lucid Steaks" in its focus on curated combinations of low materials- garbage, in this case- that seek to question our relationship with them. Cope's exhibit is accompanied by a gorgeous piece of writing titled "Zen and the Art of Garbage Hunting and the Protectors of Refuse." It describes the garbage hunter's process of identifying "Piles of Distinction," or garbage heaps that have drawn the protection of a totem, seen here as hilarious spirit-animal beings preserved on film via a "highly sensitive and specialized machine."
Once identified, these piles of distinction are transformed by yet another machine (the documentary film is taken from the machine's point of view, so only its powerful front incisors are seen- it stacks old tires and charred furniture into imposing piles to an oddly perfect Bach soundtrack) into vertical plinths of stacked garbage assembled in honor of their original owner, "recently deceased friend and neighbor," in hopes of attracting permanent protection to the vicinity, as well as honoring the inherent power individuals leave behind with their earthly belongings. The piece is funny, sentimental, and serious all at once, maintaining a light touch with its potentially problematic content- garbage-strewn, run down neighborhoods, excesses of objects that have outlived their owners and practical usefulness, death itself.
Accompanying "Totems" and "Semi Lucid Steaks" are a playful, sensual floral installation by Lisa Waud, the magical mind behind Hamtramck's Flower House project, and a light installation by Patrick Ethan, who is also currently exhibiting at Playground Detroit.
Pile of Distinction Group Exhibition,  on display at David Klein Gallery's Detroit space from February 6 through March 12, 2016.
www.dkgallery.com