Road Trip! Detroit Institute of Arts presents "The Open Road: Photography and the American Road Trip."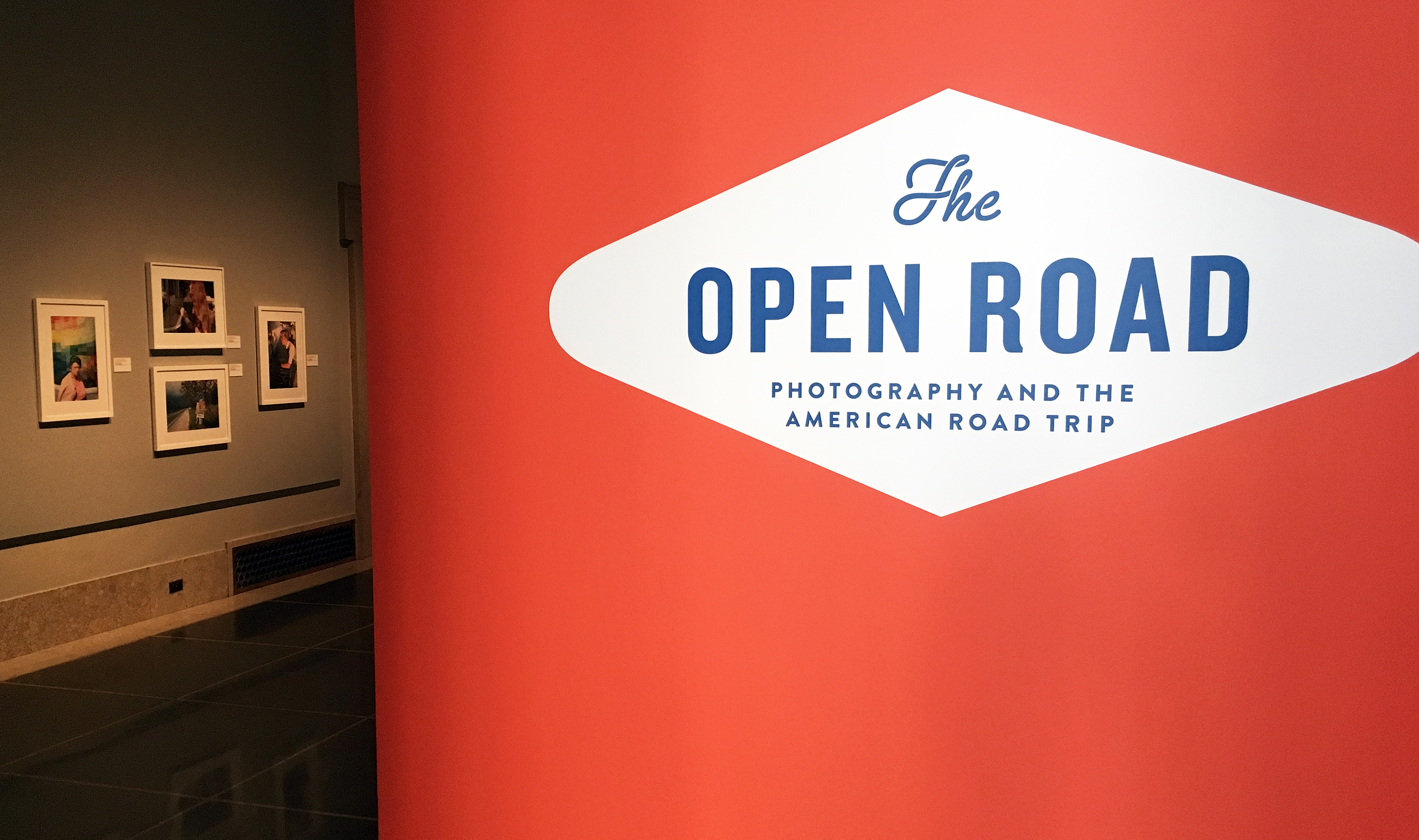 The Detroit Institute of Arts (DIA) opened a photography exhibition on June 17, 2016; The Open Road: Photography and the American Road Trip, sponsored by Aperture Foundation, New York, with a grant from the National Endowment for the Arts.
"Road trips are a tradition in America and can clearly reveal what is unique about this country's culture," said Salvador Salort-Pons, DIA director. "Photographers traveling through the United States have defined, critiqued and celebrated America."
Truer words were never spoken. In my sophomore year of college while studying art and playing trumpet, I read On The Road by Jack Kerouac. I knew that after reading the novel, I had to take a road trip. That next summer I took my VW Beetle across the country to California and ended up in San Francisco's North Beach listening to Grace Slick and The Jefferson Airplane at the Fillmore. Just by chance, I bought a copy of The Americans, the now famous book by Robert Frank, at the City Lights Book Store. Back then, the City of San Francisco offered free darkroom facilities to its city folk. I had brought my used 35 mm Nikkormat, with a 50mm lens and a carton of Tri-X film, so all I needed to do was buy a box of Agfa paper and start printing images from the trip. What a deal! Much of my experience that summer resonated as I browsed The Open Road.
Robert Frank emigrated from Switzerland to New York City in 1947, and eventually got work as a photo assistant at the fashion magazine, Harper's Bazaar. After receiving a Guggenheim Fellowship in 1955, he embarked on a two-year trip across America and captured 28,000 images with his Leica 35mm rangefinder. Detroit was one of his longer stops, and here, Drive-In Movie, Detroit 1955, is one of sixty black & white images taken during his stay. This photograph, owned by the DIA, cements in time the moment, the light, the automobiles and the movie screen images that are so distinctly American. For this review, I pulled out my copy of The Americans, where Kerouac begins his introduction, "That crazy feeling in America when the sun is hot on the streets and the music comes out of the jukebox or from a near-by funeral, that's what Robert Frank has captured in his tremendous photographs…"
Gary Winogrand (1928-1984) was born in the Bronx, New York, and studied painting at City College of New York. Soon after, he studied photography with Alex Brodovich at the New School for Social Research and was commissioned by Harper's Bazaar where he linked up with the American Society of Magazine Photographers. This photo, shot in Dallas, Texas, was part of a road trip that took him to fourteen states, where he shot 520 rolls of film. My favorite image is his untitled photo taken at a New York Thanksgiving Parade that captures a male figure high in the air in the middle of a flip off of a trampoline that was on top of a rolling float. Winogrand taught at Parsons School of Design and the School of Visual Arts, both in New York City. His work is a rendering of a classic street photographer, out of the tradition of Robert Doisneau, Ruth Orkin, and others.
This photographer, Shinya Fujiwara, a native of Japan, traveled across the United States for seven months in a motor home, seeking images that were peculiar to his sensibility. A leading Japanese photographer born in the 1940s, he has spent most of his adult life exploring different continents. He brought his life in another country and cultural to his experience on the road. Fujiwara has gone on to influence travelogues and books, both non-fiction, and fiction.
Lee Friedlander, born in 1934, began photographing the American social landscape in 1948. This photograph, New Orleans 1969, reminds me of his 2008 exhibition, America by Car, at the Fraenkel Gallery. It does so, because he used the rear view mirror on his car on many occasions, as a framing device, providing the viewer with a front and rear view of his subject. Friedlander was the recipient of the prestigious Hasselblad Award as well as the subject of a major traveling retrospective and catalog organized by the Museum of Modern Art. In 2010, the Whitney Museum of American Art, New York, exhibited the entirety of his body of work, America by Car.
The America photographer, Joel Sternfeld, was born in 1944, received his BA from Dartmouth College and taught photography at Sarah Lawrence College. Known for his large format color photography, Sternfeld was influenced by color theory by Josef Albers. Here in Mclean, Virginia, December 1978, one of his most famous images, he depicts a fireman shopping for a pumpkin as a house burns in the background. The pumpkins' vibrant oranges match the autumnal colors of the countryside, and ironically, the fire's flames. The image is peculiar because the fireman appears to be casually browsing as the flames roar.
The billboard along a highway with its copy blocked out might just be the surface in transition, waiting for its next advertisement. For Steven Shore, it's a landscape set against a landscape where he finds art along the road. Stephen Shore's photographs are attentive to ordinary scenes of daily experience, yet through color and composition Shore transforms the mundane into subjects of thoughtful meditative. He was the first living photographer to have a one-man show at the Metropolitan Museum of Art in New York since Alfred Stieglitz, forty years earlier.
One of the younger photographers in this Open Road exhibition, Justine Kurland, was born in Warsaw, New York in 1969 and studied photography at Yale University, graduating with her MFA in 1998. She was the only photographer who attended the opening at the Detroit Institute of Arts, where she appeared on a panel after the opening. There she described her years on the road, photographing images in all part of the United States, often with her husband and young child. Her photography is comprised of large-scale C-prints, mostly of rural landscapes made up of utopias or pre-industrial worlds. Many of her images capture cars, or parts of them, with anonymous auto-mechanics. She described in her talk the trials and tribulations of raising a family while traveling with the sole purpose of capturing this kind of post-apocalyptic imagery. She gained popularity with her work in the group show, Another Girl, Another Planet, at the Lawrence Rubin-Greenberg Van Doren, in Manhattan 1999, which was reviewed in the New York Times by Ken Johnson.
On The Road: Photography and the American Road Trip is a great survey of American photographers who traveled the country in search of moments in time, capturing oddities in the American culture with an eye on composition, color and light. It is good to know and remember that a revolution has taken place in photography, largely due to the technology that has given every smart-phone user a camera. The impact that the digital revolution has had on producing images is immeasurable. Many professional photographers have lost their employment to mammoth stock photo collections, like Getty Images, and with the development of the Internet, the delivery of imagery has made certain aspects of the profession, obsolete. People will say, "Today, everyone is a photographer." An art director sends the intern out to get a shot with their cell phone.
But the truth is that once this settles down, photography by professionals will rise again, and although everyone will still be able to take a snapshot, true artistic composition will be an important commodity. Large format cameras and a variety of lenses with specific focal lengths will become unique and powerful. Let's not forget that photography is an art, and this exhibition, On the Road, serves as an example of how artists use their cameras to capture and create amazing images.
Museum Hours and Admission
9 a.m. – 4 p.m. Tuesday–Thursday,
9 a.m. – 10 p.m. Friday,
10 a.m. – 5 p.m. Saturday and Sunday.
General admission (excludes ticketed exhibitions) is free for Wayne, Oakland and Macomb county residents and DIA members.
For all others, $12.50 for adults, $8 for seniors ages 62+, $6 for ages 6–17.
For membership information, call 313‐833‐7971.